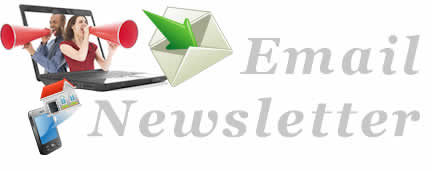 Do you want to make sure you never miss out on another Vacation Rental Special? Join The Snowbird Company's email list to read about upcoming events, new rental properties, and discounts on vacation rentals.
We send out email newsletters that highlight new properties, special rental rates, and reminders about upcoming holiday bookings and popular vacation times. It is easy to subscribe and at any time you can automatically remove your name from our newsletter list.
News & Press Releases:
November 5, 2013

-- Winter visitors invited to return for entertainment, samples of local cuisine, browse RVs, classic cars and modern-day, custom automobiles, and learn of businesses offering services catering to the snowbird lifestyle.
Media Kit:
Greetings, and welcome to The SnowBird Company! Read and/or download the full document - click here

Since 2002, we've been focusing on a single goal: bringing together Snowbirds and Property Owners in enjoyable destinations, season after season. And to achieve this goal, we've been guided by three rules:

We must make our solutions FAST 
We must make our solutions EASY
We must make our solutions EFFECTIVE

So, have we been successful in following these rules, and achieving our mission? Sixty million hits a year across 18 of the most popular Snowbird destination websites on the Internet says we have. And we're still growing!

But don't get the wrong idea... Read and/or download the full document - click here

Snowbirds Snapshot:
Snowbirds tend to have a higher income and are better educated as a whole than the general population. Nearly 45% of Snowbirds are college graduates and over 15% have incomes greater than $100,000 annually. Snowbirds are not tied down to a 9 to 5, five-day-a-week job or career. There are an estimated 9 million Snowbirds in the US... Read and/or download the full document - click here
2011-2013 E-mail Newslettter Announcements:

| | | |
| --- | --- | --- |
| | | Newest E-mail Newsletter Announcements: |